You are Cordially Invited to Hear

Lynne Jackson
speak about the
Journey for Justice
A 133-mile walk for Yassin Aref
Wednesday, September 18, 2013
6:00 PM Dinner — 7:00 PM Presentation
85 Chestnut Street, Albany, NY 12210
Last summer, Lynne Jackson from Project SALAM, organizzed a 133 mile walk from Albany to Binghamton to advocate for Yassin Aref, a Kurdish imm who was entrapped by a criminal con artist hired by the FBI.
Despite no evidence that Yassin supported any terrorist activity, the post-9/11 climate made the jury afraid to acquit him or his co-defendant, Mohammed Hossain. New evidence came to light that the FBI thought Yassin was someone else and the defense prepared an appeal motion to reopen the case based on this dramatic new evidence of mistaken identity.
To bring attention to Yassin's new appeal, Lynne Jackson organized the Journey for Justice to bring a petition in support of Yassin's appeal and signed by supporters of Yassin to the judge in the case.
Lynne will describe Yassin's case, speak about how she organized the walk, and talk about the adventures she had on the way, including the heat wave, the reactions of people she met, what it is like to stay in a different stranger's (now friends!) home each evening, getting dunked in the Susquahanna River, and arriving at the court house in Binghamton in a wheelchair.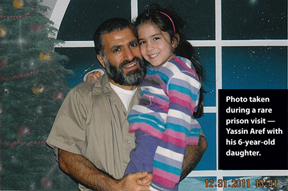 .
Sponsored by Save the Pine Bush. Dinner is vegan/vegetarian lasgana dinner, salad, bread and desserts. Only $12 for adults, $6 for students, $3 for children — all are welcome. Call 518-462-0891 or email pinebush@mac.com for dinner reservations or attend the presentation only at 7:00 for no charge.
(For more information on Yassin and his case, see this article in New York Magazine, 'Little Gitmo.' )
Read about the Journey for Justice here.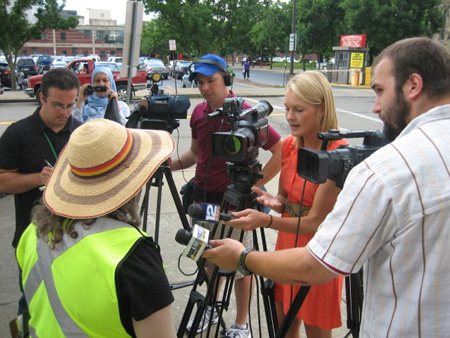 Lynne Jackson speaks to the media outside the Federal Court House in Binghamton, NY.
---
Links to:
Rally and March - Friday, July 12, 6:00 PM, Albany, NY
Journey for Justice - Deliver petition to home court of the judge by walking to Binghamton, NY
Walk Route - List of beginning and ending locations for each day, July 12 to July 23
Notes on conditions of the walk
Become a sponsor for the Journey for Justice
Information about what walkers should bring
Press packet and supporting documents
Follow the Journey for Justice on the blog
Follow the Journey for Justice on twitter
Read media reports on the appeal motion and the Journey for Justice
---