The Fort Dix Five Support Committee and Project SALAM Presents
An Evening in Support of the
Fort Dix Five
Saturday, December 12, 2015
7:00 PM movies, with panel discussion to follow

Screenings of two documentary films
"The Newburgh Sting"
"Entrapped"
The Newburgh Sting (80 min), which won a Peabody Award in 2014, is a detailed look at the use of FBI informants through the Newburgh 4 case, which turned four innocent African American men into terrorists.
Entrapped (12 min) features an overview of the Fort Dix Five case and an interview with Burim Duka, the younger brother of three of the men involved, talking about the legal and moral injustice in his brothers' case.
Panel discussion after the films will include Alicia McWilliams, aunt of one of the Newburgh 4 defendants, Burim Duka, and other family members of the targeted men. Light refreshments will be served.
Free admission or goodwill donation
People are urged to attend the January 6 Appeal hearings for three of the Fort Dix 5 at the Mitchell H. Cohen Building & U.S. Courthouse, 4th & Cooper Streets, Camden, NJ. More details will be described during the panel discussion.

For information contact
Joe Piette at jpiette660@hotmail.com
Lynne Jackson at lynnejackson@mac.com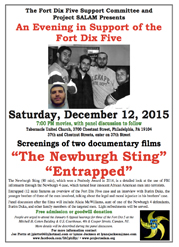 Tabernacle United Church, 3700 Chestnut Street, Philadelphia, PA 19104 37th and Chestnut Streets, enter on 37th Street
---