Reports on the Candlelight March and Inter-faith Dinner in Support of Yassin Aref and Mohammed Hossain
The Muslim Solidarity Committee, Project SALAM& the Aref-Hossain Capital Region Chapter of NCPCF held a candelight march and interfail dinner on Saturday, August 4. Here are reports that appeared about the event.
Read reports from:
The Daily Gazette
The Times Union
WNYT TV
---
---
Muslim case and the fruit of caring
Published in the Daily Gazette, Sunday, August 12, 2012
By Carl Strock , Gazette Columnist

There are not enough heartening things in this world, but one occurred last weekend in Albany, and I was pleased to be present for it. That was a march down Central Avenue and subsequent meeting at the Masjid As-Salam storefront mosque to mark the eighth anniversary of the arrest of two Albany Muslims on phony-baloney charges of supporting terrorism.
The two — Yassin Aref, imam of the mosque, and Mohammed Hossain, owner of a nearby pizza shop — were convicted in federal court in 2006 and were each sentenced to 15 years in prison, sentences they are now serving.
It was part of a campaign by the FBI to ensnare Muslims who were not terrorists at all but who might be susceptible to being tricked into doing things that could be sold to a jury as support for terrorism.
It was one of the early such efforts, and, successful as it was, it led to many others, enabling the FBI to present itself as the vanguard in the war against terror. A display in the mosque showed the names of 150-some victims of this entrapment campaign, a campaign that still continues.
What was heartening was that people in Albany still care and still remember — not just the wives and children of these two men, but also a lot of non-Muslims, simply good-hearted people who over the past six years have pitched in to help support the families, help them pay the rent, help them visit their husbands and fathers in prison, help them navigate immigration labyrinths, help the kids get school supplies.
I would name these people, but there are too many of them, and I would hate to leave anyone out.
But one really struck me at this gathering, sentimentalist that I am, and that was a grizzled old customer by the name of Michael Rice who has a farm in Delmar. He told how after Yassin and Mohammed were sentenced he got the idea to plant a couple of fruit trees in their memory and tried but failed to get permission from the city of Albany to plant them somewhere on public property. So he planted them on his own farm, two peach trees.
At the mosque, in front of this gathering of friends and supporters, he presented the first ripe peach to Yassin's youngest child, 6-year-old Dilnia.
"It's got some insect problems," he said, but there it was, a ripe peach, and Dilnia, beaming, took it.
I remember when she was not yet born, when Yassin, temporarily free on bail, stood on the sidewalk in front of this mosque and earnestly tried to explain to me, in halting English, why it was imperative that he pay the parking ticket I had just gotten. "It's my religion," he said. "I can't let you suffer because of me."
I felt like an old-timer, and I expect a lot of other people there did too, so much has happened since then, not least the ripening of peaches.
Link to orginal: http://www.dailygazette.com/news/2012/aug/12/0812_strock/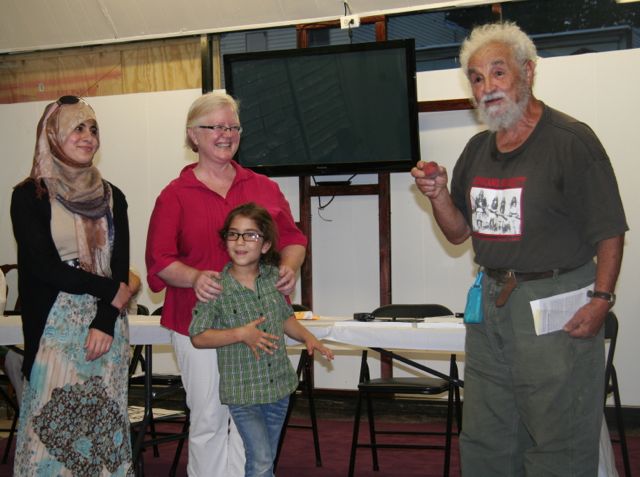 Left to right: Alaa Muhiddin, Cathy Callan, Dilnia Muhiddin, Michael Rice, photo by Jeanne Findley; MIchael Rice presents a peach from a tree he planted in Yassin Aref's name to Yassin's youngest daughter
---
Protest calls for justice in terrorism sting
Event held on eighth anniversary of arrests of Capital Region men
By Brian Nearing, Times Union reporter
Published 10:03 p.m., Saturday, August 4, 2012
ALBANY — In a sweltering renovated storefront on Central Avenue, Alla Aref Muhiddin spoke before dozens of people on Saturday about her imprisoned father and others like him.
"Hundreds of Muslims in America have been arrested for being Muslim, and nothing else," said the Albany High School senior, who spoke on the eighth anniversary of the arrest of Yassin Muhiddin Aref, who is now serving a 15-year sentence after being swept up and convicted with another Capital Region man in an FBI counterterrorism sting.
The vigil at the Masjid As-Salam mosque for Aref, a Kurdish refugee from Iraq, and Mohammed Hossain, was meant to draw attention to what supporters say was government-manufactured crime spawned in the aftermath of a nation frightened by the Sept. 11, 2001, terrorist attacks.
About 40 people rallied at Townsend Park, holding signs demanding freedom for the two men, and the group then walked the half-dozen blocks to the mosque to hear speakers talk about that case and others.
Aref, the imam, or prayer leader, at the mosque, and Hossain, a pizzeria owner, were convicted in 2006 of participating in a fictitious plot spun by a government informer to launder money made from selling a missile launcher.
Aref's lawyer, Steve Downs, said that documents in Aref's FBI file, obtained under the federal Freedom of Information Act, show that the agency apparently had the informer target Aref after confusing him with a known Al-Qaida operative named Mohamed Yasin. That man was killed by Israeli forces in 2010.
"It appears that this whole case was fabricated on a case of mistaken identity," Downs said. He said that Aref had initially been kept in special prison sections called Communication Management Units, in which communication between prisoners and the outside world is tightly controlled, in Indiana and Illinois.
After the death of the known Al-Qaida operative with the similar name. Aref was moved by prison authorities without explanation last fall to a medium-security prison outside Philadelphia. "This tells you something," Downs said.
The move has made it easier for Downs and Aref's family to visit him, turning a multi-day car trip into a day trip, he said.
On the wall of the mosque next to Downs were plastic placards bearing the names of Aref, Hossain, and 153 other people, under the title of "Victims of Preemptive Prosecution." Preemptive means prosecution prior to a crime actually being committed.
"The government is doing this by sending informants into our communities to entrap people," said Fahd Ahmed, legal and policy director of a not-for-profit group Desis Rising Up and Moving, He leads the group's work on national security, racial profiling, and police accountability. After Sept. 11, he led work with Muslim, Arab, and South Asian immigrant detainees and their families.
"If we stay quiet, if we stay afraid, we only make the government campaign easier. We have to speak out," Ahmed said.
Downs said that Aref and Hossain are being supported by members of the Muslim Solidarity Committee of Albany. "We have been taking donations that have allowing the families to be able to continue making their rent," he said.
bnearing@timesunion.com • 518-454-5094 • @Bnearing10

Link to original: http://www.timesunion.com/local/article/Protest-calls-for-justice-in-terrorism-sting-3763296.php#ixzz23M9kVXwL
---
Muslim arrests remembered, protested at Albany mosque
Posted at: 08/05/2012 12:56 AM | Updated at: 08/05/2012 1:02 AM
By: Dan Levy, WNYT
Video link:
http://wnyt.com/article/stories/S2716617.shtml?cat=300
ALBANY - Eight years ago, on August 4, 2004, FBI agents in Albany took a Muslim religious leader and a pizza shop owner into custody, charging them with conspiracy and money laundering in a scheme that allegedly supported a foreign terrorist organization.
Those men were convicted and sent to prison.
On Saturday night, supporters took part in a march to say, those men are not forgotten.
After the highly publicized FBI sting operation , Yassin Aref and Mohammed Hossain were sentenced to fifteen years in federal prison. To this day, many people believe the government targeted them because they are Muslim, entrapped them, and took their lives away.
Most of the people involved in Saturday night's march up Central Avenue in Albany were not Muslim. It was a cross section of faiths, but what they really all had in common was a lack of faith in their own American government, which is what they believe to be the lesson of the Aref/Hossain case.
"The government can take down anybody at any time they want to," said Stephen Downs, executive director of Project Salam, "As long as they're willing to lie, and cheat, and manufacture evidence as they do here in these cases, all of us are at risk."
At the Masjid As-Salam mosque, where Yassin Aref was an imam, the theme for the evening was preemptive prosecution, the perception that the government targets particular groups, in this case Muslims.
"It's very serious," said Mabel Leon of Schenectady, a member of Grannies for Peace, "I want a better world for my grandchildren."
Ed Bloch, 88, of Latham, executive director of the Interfaith Alliance, broke out in a chorus from Rogers and Hammerstein's South Pacific that he felt fit the occasion: "To hate all the people your relatives hate, you've got to be carefully taught."
Among the people who have been "carefully taught" are the children of Yassin Aref.
"My father got arrested when I was five years old," said Raiber Muhiddin, Aref's son, soon to be 12. "Now I just know that the government is corrupt. It's not really the free land that it's said to be."
"Before that happened (my father's arrest), I didn't know something like this would happen in America," said Kotcher Muhiddin, Aref's 15-year old son. "I didn't know they would take people that were innocent."
Stephen Downs believes what happened to Hossain and Aref could happen to him in the blink of an eye. He also believes the success of the march can't be denied.
"Typically somebody gets locked up and people say it's an injustice and then you forget about it," Downs said. "This case isn't getting forgotten about.These marches get bigger, they're drawing more people and other people are organizing marches themselves across the country.
Downs points out the government has locked up more than two hundred Muslims in this country who he believes have been preemptively prosecuted.
According to the Muslim Solidarity Committee, Yassin Aref, while in prison, obtained his FBI file through a Freedom of Information request, and in that file, they say, was evidence that suggests Aref is a victim of mistaken identity.
Aref has now been transferred from Illinois to a Pennsylvania prison and his sons say they visit their father about once every couple of months.