THE PEACE Thru JUSTICE FOUNDATION
11006 Veirs Mill Rd, STE L-15, PMB 298
Silver Spring, MD. 20902
April 23, 2010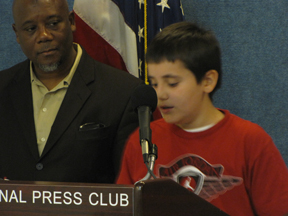 Mauri Saalakhan (left) at National Press Club
See Complete Video of the Press Conference by clicking here.
MEDIA ADVISORY
FOR IMMEDIATE RELEASE
The Case of Dr. Aafia Siddiqui, and
The Albany (NY) Resolution on Preemptive Prosecutions
On Thursday, April 29, 2010, at 1 pm, a press conference will be convened at the National Press Club in downtown Washington, DC, to draw attention to two very important issues: (1) the upcoming May 6th Mobilization in New York City in support of Dr. Aafia Siddiqui; (2) the precedent-setting "Preemptive Prosecution Resolution" recently passed by the Common Council of Albany, New York.
Dr. Aafia Siddiqui is a Pakistani national who disappeared from the streets of Pakistan, along with her three young children (victims of rendition), in March 2003. It is believed that she spent the next five years (2003-2008) as a secretly held prisoner at the U.S. controlled detention center in Bagram, Afghanistan. In July 2008, Dr. Siddiqui mysteriously reappeared on the streets of Ghazni, Afghanistan, in a weakened and disheveled state, only to be re-arrested, gravely injured by gunfire, and subsequently brought to the United States to stand trial for allegedly attempting to "murder U.S. personnel."
After a trial that featured inconsistent testimonies from government witnesses, and material evidence that was in the defendant's favor, Dr. Aafia Siddiqui was found guilty on all counts, and now faces the possibility of life imprisonment when she is sentenced in New York on July 21, 2010.
(The sentencing was recently changed from May 6 to July 21; however, the scheduled demonstration for Dr. Aafia Siddiqui - and other Muslim political prisoners in the U.S. - at Foley Square in New York City, on that date, will continue as planned.)
On Monday, April 5, 2010, the city of Albany's Common Council passed an amended resolution that urges the U.S. Justice Department to implement the recommendation of its own Inspector General and establish an independent panel to review the convictions of Muslims who have been "preemptively prosecuted," to ensure fair treatment under the U.S. Constitution and Bill of Rights. Ten council members voted yes, and four voted present.
The resolution, introduced by council members Dominick Calsolaro, Ronald Bailey, Richard Conti, Catherine Fahey, Anton Konev, James Sano, and Barbara Smith, was inspired by a declassified July 2009 report by the Justice Department's Inspector General on domestic surveillance programs. His report recommended that the Justice Department carefully consider whether it should re-examine past [terrorism] cases to see whether potentially exculpatory evidence was collected under President George Bush's secret President's Surveillance Program (PSP), which was established in 2001 and included the National Security Agency's (NSA) warrantless wiretapping program.
Under the preemptive prosecution program, hundreds of Muslims throughout America have been prosecuted and convicted to "preempt" them from committing crimes in the future. Under such a regime (prosecution for alleged intent), there is a substantial danger that innocent people will be convicted who had no real intention of ever breaking the law.
Council member Dominick Calsolaro said, "We showed that the impact of a federal government sting affects more than just the family, it affects the community… When the federal government does not follow its [own] laws, more people than just the family are affected."
Council member Barbara Smith said, "I think the Common Council made an important statement this evening in calling attention to the improper prosecution and targeting of Muslims. It is important for us to communicate with the federal government, and this is a good way to do it."
Council members Smith and Calsolaro are expected to be among the speakers at the April 29th press conference. Lynne Jackson, a spokeswoman for Albany-based Project SALAM, the organization that spearheaded the resolution effort, will also address the gathering.
The press conference will be hosted by Families United For Justice in America (FUJA), with the support of The Peace thru Justice Foundation and other concerned citizens. The briefing is open to all interested media.
For additional information call: (301) 762-9162, or e-mail: peacethrujustice@aol.com
National Press Club
529 14th Street, NW,13th Floor, Wash.,DC 20045
phone 202-662-7515 fax 202-662-7512