You are Cordially Invited to Hear

Lynne Jackson
speak about last summer's
Journey for Justice
A 133-mile walk for Yassin Aref
in July 2013
Thursday, January 9, 2014
6:30 PM
At the Bethlehem Public Library
451 Delaware Ave., Delmar NY 12054
Last summer, Lynne Jackson from Project SALAM organized a 133-mile walk from Albany to Binghamton to advocate for a new appeal by Yassin Aref, a Kurdish imam who was entrapped by a criminal con artist hired by the FBI.
Despite no evidence that Yassin supported any terrorist activity, the post-9/11 climate made the jury afraid to acquit him or his co-defendant, Mohammed Hossain. But two years ago, new evidence came to light that the FBI originally thought Yassin was a Pakistani Al-Qaeda operative (who was killed in 2010). In spring 2013, the defense prepared an appeal motion to reopen the case based on this dramatic new evidence of mistaken identity.
To bring attention to Yassin's new appeal, Lynne undertook citizen action: she organized the Journey for Justice in Albany to carry petition signatures in support of the appeal to the Binghamton judge who will hear it.
Lynne will describe Yassin's case, speak about how she organized the walk, and talk about the adventures she had along the way, including July's heat wave, the responses of people she met, and what it was like to stay in a different stranger's home each evening, get dunked in the Susquehanna River, and finally arrive at the courthouse in Binghamton in a wheelchair.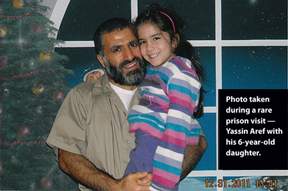 Yassin Aref at the Loretto, PA Prison
Sponsored by Bethlehem Neighbors for Peace, Project SALAM, Muslim Solidarity Committee, and the Aref/Hossain Chapter of the National Coalition to Protect Civil Freedoms (NCPCF).
(For more information on Yassin and his case, see this article in New York Magazine, 'Little Gitmo.' )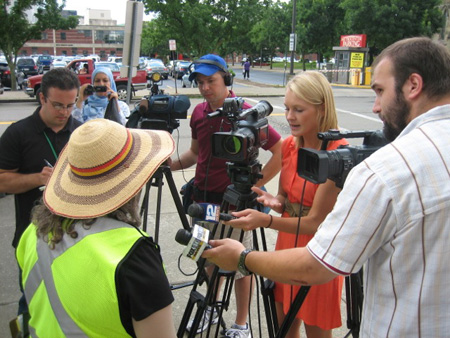 Lynne Jackson speaks to the media outside the federal court house in Binghamton, NY.
---
Links
---